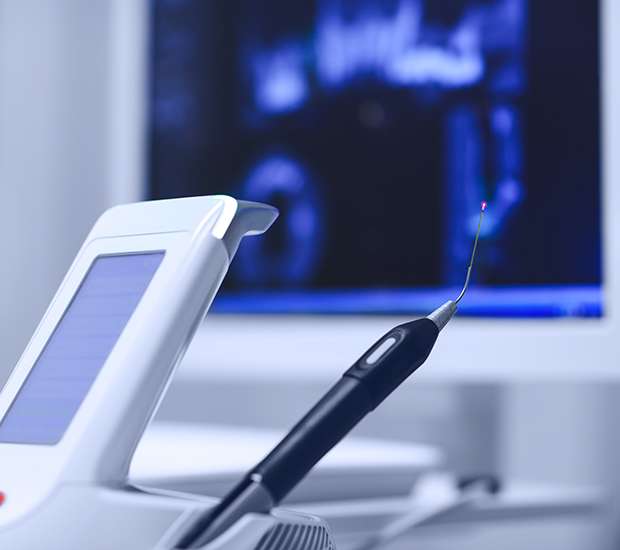 Laser Dentistry
Brooklyn, NY
As a laser dentist in Brooklyn we can use lasers to treat periodontal disease in conjunction with traditional gum therapy. At MG Dental, we can use laser dentistry to treat our patients' oral health concerns in a way that is comfortable and effective. Lasers are revolutionizing dentistry, but a family dentist still typically uses traditional metal dental tools, making it necessary to visit a laser dentist. We can use lasers in the majority of our procedures to correct damage without causing irritation. We invite you to call (718) 416-6444 and experience the difference that laser dentistry can make.
Laser Assisted Periodontal Therapy
(a.k.a. LAPT) treats periodontal diseases using a new, state-of-the-art laser technique. We do not use scalpels and there are no sutures used with laser gum treatment. Instead this groundbreaking procedure utilizes the Diode Laser, so any fears you may have of gum disease treatment are, quite simply, unfounded when it comes to laser gum treatment. LAPT is the safest, cleanest and most pain-free treatment for gum disease available. LAPT gum treatment is pain free, highly effective and a great treatment option to consider.
How Does LAPT Laser Periodontal Treatment Work?
The bacteria that are responsible for gum disease live inside your tissues. The Diode laser selectively targets the main bacteria responsible for periodontitis. An excess build-up of tartar or calculus is linked to inflamed gums that often bleed during routine brushing or flossing. During the traditional treatment of periodontal gum disease, calculus or tartar is removed from the tooth's root surface using a small ultrasonic scaler or hand instruments. During the additional laser gum treatment, the Diode laser eliminates the bacteria associated with gum disease by gently removing small amounts of diseased gum tissue. Once the procedure is completed, your gums will begin to heal naturally and quickly.
Is LAPT Laser Periodontal Treatment Painful?
While the Laser Periodontal gum treatments are painless, we likely will still utilize a local anesthetic to ensure the most comfortable treatment of your gum disease possible. More often than not, a simple topical anesthetic spray is all that is required, and any post procedure discomfort you may experience will only last a short period of time.
How Much Time Does the Laser Gum Treatment Take?
Every patient, and every case, is different. The length and complexity of your Laser Assisted Periodontal Therapy treatment will depend on both the severity of your periodontal disease, as well as the degree of treatment your particular case of gum disease requires. As a general rule, successful treatment of your gum disease generally takes one or more visits to the office for treatment.
Definition of Cosmetic Dentistry Terminology
Allograft

An allograft is a graft of tissue from a donor within the same species as the patient that is not a genetic relative.

Alveolar Ridge

The alveolar ridge is the bony ridge for one of the jaw ridges located on the roof of the mouth or on the bottom of the mouth.

Autograft

An autograft is a graft of tissue from one portion of an individual's body to another.

Bleachorexia

Bleachorexia is when people continue to abuse teeth whitening solutions without consulting professionals, causing significant damage to their enamel and gums in the process.

Cap Splint

A cap splint is a plastic or metallic device that professionals may use to treat mandible or maxillary fractures and cover crowns of teeth.

Cosmetic Dentistry

Cosmetic dentistry is generally used to refer to any dental work that improves the appearance (though not necessarily the function) of a person's teeth, gums and/or bite.

Crown Lengthening

Crown lengthening is a surgical procedure that increases the extent of a tooth structure for restorative or esthetic purposes.

Dental Crown

A crown is an artificial tooth, usually consisting of porcelain, which covers the top of the implant to provide people with an aesthetically pleasing and fully-functional tooth.

Dentin Hypersensitivity

Dentin hypersensitivity is when the enamel wears down on the tooth enough that the dentin faces exposure and will cause great levels of pain when a person applies pressure to the tooth or drinks hot/cold beverages.

Dentist

A dentist, also known as a dental surgeon, is a doctor who specializes in the diagnosis, prevention, and treatment of diseases and conditions of the oral cavity.
Back to top of Laser Dentistry
Recent Posts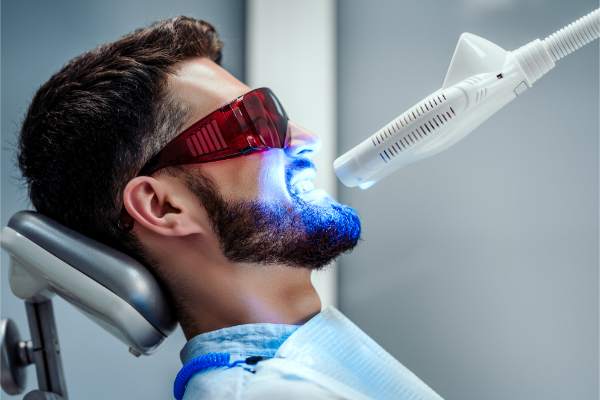 Laser dentistry is a relatively young concept that can target diseased soft tissue and improve the health of gums, jawbone, and more. Dental lasers are approved by the Food and Drug Administration (FDA), and the risks of the procedure are minimal. Subsequently, dentists often recommend laser dentistry for deep dental cleaning procedures. A routine dental cleaning…
Explore additional topics covered on our website: