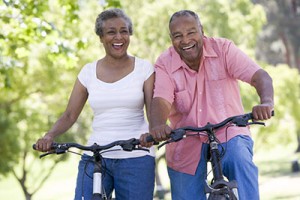 At MG Dental, we can provide you with several dental options for missing teeth, including dental implants, dental bridges, or dentures and partial dentures. As a cosmetic dentist, we treat patients throughout Brooklyn, NY and know that each of our patients has unique needs. This is why we recommend scheduling a dental exam and consultation before deciding how you want to replace your teeth. If you have not yet lost a tooth, but are concerned you may need a tooth extraction, there is a possibility we can save the tooth by performing a root canal treatment and placing dental crowns around it. Otherwise, if you have already experienced tooth loss, we can provide you with a solution that will be durable and natural-looking. Your options may include dental implants, dental bridges, or dentures and partial dentures.
Dental implants. When considering your options for missing teeth, know that dental implants are the only solution that replaces both your missing root and tooth. As a general dentist, we know an implant is the best way to prevent resorption and any long-term changes to the appearance of your face. Simultaneously, an implant is the most durable solution and will function like a natural tooth, giving you the ability to engage in high-impact activities and eat your favorite foods.
Dental bridges. As a family dentist, we understand some of our patients want the durability of an implant, but without the oral surgery. In this situation, dental bridges are an ideal solution. We complete the procedure by placing dental crowns on the two teeth surrounding the missing one, so the bridge and new tooth can be held in place. When it comes to dental restorations, dental bridges are a natural-looking solution.
Dentures and partial dentures. For a more traditional option, we offer dentures and partial dentures. We will ensure they are created in the right shape and size, and during an annual dental check-up, we will determine if any adjustments need to be made. This, along with proper at-home care, will keep your dentures functioning for years to come.
To learn more about your dental options for missing teeth, call our 11229 dental office at (718) 416-6444. We can also provide you with preventative dental care to help decrease your risk of tooth loss. Our routine dental care includes cleaning teeth, treating cavities, placing composite fillings when necessary, and providing periodontics care to treat gum disease and dental bonding to restore damaged teeth, among other treatments. We are also a provider of laser dentistry and can use innovative solutions to give you a smile makeover. These include dental veneers, teeth whitening, a BOTOX® dental treatment, a Restylane® dental treatment, and more. We are also an Invisalign® dentist who can straighten your teeth. If you are looking for a "dentist near me" to provide you with comprehensive dental care, give us a call today.
---
Related Posts
January 6, 2019
Do you want some more information on the side effects of teeth grinding?If you suffer from teeth grinding, also known as teeth clenching and bruxism, then you need to learn more about the harmful effects …
---